As an island situated in the Atlantic Ocean, sea level rise is of particular interest on Nantucket.  In February 2013, prominent scientist 
Dr. Paul Kirshen
spoke to a group of UMASS students about the inevitability of climate change and how we can adapt to  it- by implementing renewable energy sources, planning for climate change, and taking measures to adapt over time.  
View his talk here.



Ocean Current Energy


Technologies are being developed to capture energy within the
ocean's currents
to produce usable power.    Although they are relatively slow moving compared to wind, ocean currents contain vast amounts of energy because the density of water is much greater than that of air.  Ocean currents are relatively constant and flow in one direction.  The image to the left is an artist rendering of prototypes of these types of turbines, which look a lot like horizontal axis wind turbines.
This form of renewable power generation is in its early forms of development, and Nantucket is participating as
an observation site
.  Beginning in the fall of 2012 and lasting for a period of one year, current, waves, and wind data is being collected at a town owned property in Madaket.    One of the goals of this experiment is to support a wave power demonstration project.
Tidal Power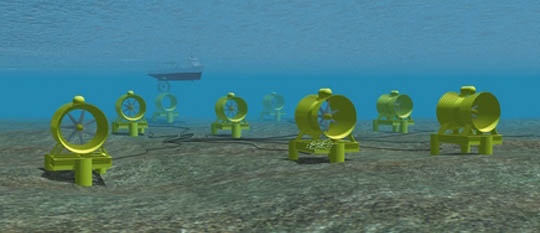 Tidal energy
uses large, underwater turbines to capture energy in the ebbing and surging of ocean tides and convert it to electricity.   New technologies extract electricity on both the incoming and outgoing tides. 
The Muskeget Tidal Project, which is located between the islands of Martha's Vineyard and Nantucket, is in the research stage of development.   The Town of Edgartown holds a permit from the Federal Energy Regulatory Commission  securing rights to develop tidal energy in Muskeget Channel.   Edgartown is working with the Town of Nantucket and others to develop the project in two phases: a pilot 5 MW pilot followed by a full-scale deployment of 20 MW.  In August of 2011, the technology was demonstrated in this video, This project is one of two tidal-energy projects proposed for the Cape and Islands, the other being Vinyard Sound.
Ocean Thermal Energy Conversion (OTEC)
By using differences in temperature between water near the surface of the ocean and water near the sea floor, electricity can be produced.   Ocean Thermal Energy Conversion (OTEC) technology has been used since the 1880s but has not been widely developed.  At this time, the amount amount of power able to be produced does not justify its cost.